Clive Brooks - clarinet - piano - trumpet 20th December 1935 - 24th June 2009

This is the Preface taken from Clive's book 'Trad Mad' a wonderful book of which most Kent based trad musos have in their possession. Why
Kent? Well, partly because I spent my entire playing career in bands based in Kent, but mainly because the Garden of England can fairly be
said to be the birthplace of the revival of traditional jazz in this country. The first jazz record I ever owned was 'Tiger Rag' by the 'Original
Dixieland Jazz Band'. I bought it in a shop in Liverpool, I think, 1949. I was 14yrs old and from that moment on I was hooked. The drive of
Nick La Rocca's cornet, the interweaving melody of Larry Shields clarinet, the raucous smears of Eddie Edwards' trombone and the collective
improvisation all fascinated me, and I longed one day to be able to play in such a band. My next purchase was ' At the Jazz Band Ball' by Mugsy
Spanier's Ragtime Band. This was very different, but equally hot and exciting. My collection of Jazz records slowly expanded as my pocket money
would allow. I played them on an enormous wooden wind-up gramophone which my mother bought me for five shillings (25p) in a junk shop.
My mother was both a professional dancer and an expert pianist, she could literally play anything from Lizst to Jelly Roll Morton by sight,
transposed at will into any key!! I had picked up from her at least the rudiments of reading, and also harmony and counterpoint. I was fascinated
by the eight-beat boogie-woogie Chicago style of piano playing as exemplified by Meade Lux Lewis, Albert Ammons and Pete Johnson, which I
had heard on the 'wireless' . I had a school friend, Maurice Deeprose , whose father had been a dance-band drummer, Maurice, or 'Moz' as we
called him, started practising on his father's old kit ( he owned two Harry Roy 78s ) and eventually joined a local band in Crosby called Ralph
Whatmough's Dixielanders. I followed the band around on many of their gigs. We Moved to Gillingham in 1950 and in 1952 I purchased an old
rosewood simple-system clarinet for two pounds in a second-hand shop in Old Brompton, and started to teach myself to play. A school friend,
Bev Bromley, bought himself a trumpet, and we practice together in my front room. Learning to play turned out to be a very complicated affair
as we were both unaware that his instrument possessed a key with which you could alternate between 'A' and 'Bb' and needless to say, it was
stuck in 'A', which made life a little difficult. Eventually, another friend pointed this out and the instrument was exchanged. What made matters
worse was the fact that my piano, on which we used to pick out tunes and chord sequences, was tuned in 'Bb' instead of 'C', although at least
we were aware of that from the beginning. One day, whilst practising at home in his bedroom, my pal smashed his trumpet over the end of his bed
when he failed at the umpteenth attempt to negotiate even the first two bars of Louis Armstrong's intro to 'Cornet Chop Suey'. He never played
again. Undaunted, I persevered with the clarinet. However, in the first band I joined, I was to play the piano. We rehearsed in a youth club in
New Road, Chatham. I remember watching the Coronation at a friends house in 1953, ten of us were squashed in front of a tiny television set in
a darkened room. Later that day the band played a gig at Blue Bell Hill Village, Chatham, in honour of the event. It was our first public
engagement and we were paid ten shillings (50p a lot of money in those days) each. We didn't know many tunes, so as the day wore on, we had to
start our repertoire over again, and had actually played 'The Saints' three times before the evening was out! From then on I played almost
continuously in various bands in various bands based in Kent and on different instruments, clearly demonstrating the old adage ' Jack of All Trades
Master of None' Eventually I retired in 1996 due to arthritis in my hands. It is interesting to plot the careers of some of the musicians, moving
from band to band, perhaps playing in more than one at the same time. Some were an important influence, others made little impact, yet others
appeared on the scene only briefly. All however, whatever their abilities, played a part in the history of 'The Revival' in Kent as portrayed in my
book 'Trad Mad'.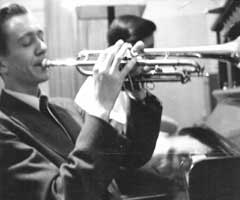 Tony Pink and Clive on the piano Clive circa early fifties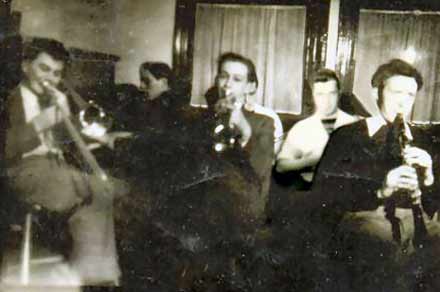 With the Tony Pink's Jazz Men
Sam Weller tmb, Clive Brooks piano, Tony Pink tpt,
Ivan Gandon bnj, Pete Godsiff clt, no drums but the guy at the back is Bev Bromley'

Here is Clive with the Kid Webster's Jazz Band in 1975
Kid Thomas Boogie Let me call you Sweetheart Tishomingo Blues
Clive Brooks piano
These recordings were made in the Bear and Key, High Street, Whitstable, Kent. 8th April 1976
The personnel being: Brian Craig tpt, Clive Brooks clt/alto/piano, Charlie Kid Webster tmb,
Frank Webster bjo, George Stockley bass and Pete Lay drms.


Clive had a great send off at his funeral, 7th July 2009 at the Medway Crematorium, and
afterwards at the 'Robin Hood Inn', Bluebell Hill, Chatham, Kent.
here are some great photos and movies of Clive's fellow musicians at Clive's wake

At the Crematorium The Flowers

At the wake at 'Robin Hood Inn', Bluebell Hill, Chatham, Kent.
The lads giving Clive a great send off - click on picture and title for the video
Left to Right: Left to Right:
Dave Straker bnj, Burtie Butler bnj, Mick Stansell tpt, Colin Martin piano Colin Martin piano, Don York tmb, Keith Blundell tmb
Tony Pink tpt, Mick Durell bass, John mason tmb, Mick Durell bass, John Ellmer drms, Tony Pitt gtr.
John Ellmer drms, Tony Pitt gtr.
Left to Right:
Colin Martin piano, Don York tmb, Mick Durell bass, Ivan Gandon sax,
Allan Bradley tpt, John Ellmer drms, Tony Pitt gtr.
Back to top Index back to music/video index